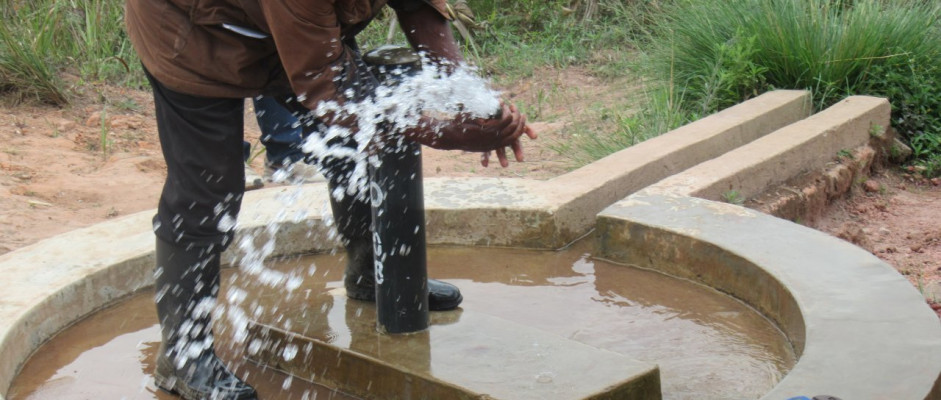 The project goal is to improve health and water supplies management to 89,468 people in Tanzania through support of 22 existing Community Owned Water Supply Organizations (COWSOs) in 30 villages of Njombe District Council.
This project addresses issues relating to improvements of water supplies and health in the community through conducting community awareness raising activities and build to all expected/ and registered COWSOs the capacities to manage and govern water resources, adaptation to the impacts of climate change, improving hygiene and sanitation and inclusion of women and youths in community development projects especially in COWSOs formation, registration, formulation, operation and maintenance.
Project Areas
30 villages which are within 12 wards of Njombe District Council.
The project is funded by USAID/WARIDI TANZANIA

In lieu of to achieve the proposed objectives that contributes on achievement of the main goal, the project has planned to use participatory approaches in conducting its activities founding on provided objectives:
---
OBJECTIVES OF THE PROJECT

Objective 1:
Start-up Activities /LGA and other stakeholders to determine WASH situation at Njombe District Council (initial assessment). Under this objective, SHIPO is planning to perform the following activities;
1.1. Two days Inception Meeting with LGA to determine situation of COWSOs and other water management bodies operating in Njombe district council. This activity will include Confirmation of COWSO inventory from RFA, planning for CCM, Water Point Mapping and Pay back by (PbR) result support. In this activity, ward representatives will be participating in the exercise
1.2. Introductory meetings and Conduction first baseline Assessment to establish COWSO status by using competency Index tool (CIT) at Ward and Villages of the 22 registered COWSOs The meetings will be conducted for 2 days for every COWSOs and will also include rapid assessment of scheme. The participants to these meetings will be; village executive officers (VEOs) from 30 villages, village chairmen from 30 villages, ward executive officers (WEOs) from 12 wards, councillors of 12 wards and COWSO's leaders of 22 COWSOs.
1.3. Conduct a District wide water point Mapping at Njombe district. This mapping will be done for 2 days in each of the 12 wards.
1.4. Formation of New Water User entities in two newly identified villages. According to the geographical situation of the Njombe District, SHIPO expects in collaboration with LGAs and community of the 2 newly identified villages, to form 2 new COWSOs in which each one will cover one village.
Objective 2:
Develop LGA capacity Building Plan for COWSO and Preparation Training Modules. SHIPO together with Njombe District council will have to develop a capacity building plan for COWSOs which will be used during the whole project life. The plan is expected to be reviewed from time to time to accommodate new things along the implementation of its sustainability. Therefore, to further continue with the capacity building and training, SHIPO in collaboration with the LGA, will prepare training modules to guide the trainings and strengthening the COWSOs. With this objective, the following are the main activities to be undertaken during the implementation;
2.1. Meetings with LGA district and ward leaders to deliver feedback of CIT results/ report. During this activity, participants will be the ward executive officers (WEOs), councillors, CWST team and the LGA staffs
2.2. In collaboration with District staff preparation of appropriate training modules and extension materials (with an emphasis on using the GoT COWSO training guide)
2.3. In collaboration with District staff to develop a detailed District-wide COWSO training plan for the existing and formed COWSOs
Objective 3:
Capacity Building and Implementation of COWSO Action Plan. In this objective, SHIPO expects to provide capacity to different stakeholders including council water and sanitation team (CWST), COWSOs' leaders ad water supply attendants. This capacity building will differ from one stakeholder to another and activities to be performed under this objective are as below;
1.1. Strengthen the capacity of CWST facilitation team to support COWSOs. This activity will take 2 days
1.2. Three days in class training sessions to build the capacity of the leaders of 22 COWSOs on administrative/governance, financial and water supply managerial skills.
1.3. Two days in class and practical training to water supply attendants (including artisans) on operational and maintenance skills for 22 COWSOs
1.4. Conduct regular back stopping to provide technical support to COWSOs to make water supply improvements.
1.5. Support CWST to receive regular monthly updates from COWSOs on water point functionality for PbR
1.6. Support COWSOs to:
- Develop financial documents, water user registry and business plans
- Metering Plan for public and private connections
- Calculate Sustainable Tariffs based on actual costs
SHIPO will be using different templates provided by WARIDI
Objective 4:
On-going COWSO District Action Plan. To ensure that , activities in all the COWSOs in Njombe DC are on-going and sustainable, SHIPO is planning to do the following activities under this objective
4.1. Develop Memorandum of Understandings between the COWSOs, village government and LGA
4.2. Develop CWST Follow-up and monitoring plan to provide oversight and technical backstopping to COWSOs. This will include the preparation of proper action plan outlining regular CWST field visits to COWSOs
4.3. To Conduct 2nd capacity assessment using CIT tool to assess the impacts of the training on the COWSOs performance and the services provided by the water points
4.4. Documentation of success stories that have happened along the implementation of the project
4.5. Conduct regular field monitoring visits and technical support by headquarter team for quality assurance in Njombe district
1. A detailed assessment report, clearly indicating the COWSO status in all wards and villages in the LGA through the CIT model
2. Updated WPM information for all water points in the LGA using MOWI approved form
3. Water quality treatment report
4. Detailed COWSO Implementation Plan prepared, reviewed and finalized,
5. Handouts/Training modules and materials
6. Detailed PbR tracking and implementation plan
7. Agreements with COWSOs on roles and responsibilities
8. Records of trainings that have taken place including attendance sheets
9. COWSO sustainability plans and records of COWSO/LGA MOUs outlining roles and responsibilities for each COWSO supported
10. Records/Copies of Village/Wards meetings for COWSO monitoring
11. Detailed District Water and Sanitation Plan that include proposal for improvement of water quality interventions
12. Agreed MoUs between District/WARIDI/COWSO
13. Final CCM/CIT end line results
14. Proposed O&M guideline for water schemes managed by COWSOs
15. Ground-truth/sport check system
16. CIT end line report; compare the 1st and 2nd assessment results and give feedback to COWSOs/LGA/WARIDI (-ve or +ve trend)
---
INVOLVED STAKEHOLDERS TO THE PROJECT

| | |
| --- | --- |
| Stakeholders | Roles |
| SHIPO | Project implementer, monitor progress of project and makes follow up, trainer, community awareness and sensitization organ, project progress reporter, technical support providers to COWSOs |
| LGAs | Provides guidelines, assist in preparation of plans, entrance to the community, in charge of the project after its lifetime, technical advisory organs, monitor progress of the project |
| Communities | Beneficiaries to the project, contributors to the O&M of water related infrastructures |
| COWSOs leaders | Overseers of all water resources and use in the coverage areas |
| Water supply attendants (including artisans) | Provides and supply quality WASH and MUS services and products in the community |
| CWST | Technical support team, monitor the progress of the project |
| Registrar | Advisory personnel, facilitator of registration of COWSOs |
| WARIDI team | Technical support team on COWSOs, Gender, MEL |
---
---
SHIPO Team
Website: www.shipo-tz.org
Email: info@shipo-tz.org
Tel: +255 262 784 014